What is TOMO Crypto
TomoChain
TomoChain started in 2018 as one of earliest Blockchains adopt PoS protocol. It aims to solve the scalability problem of Ethereum.
This network is relatively fast with 2,000 TPS (transactions per second), and 2s block time. Transaction fee is also much cheaper in comparison to Ethereum.
TomoChain team differentiates themselves from others by proposing the Proof-of-Stake Voting (PoSV) consensus.
PoSV is a hybrid (closer to PoS though) protocol with a fair built-in voting mechanism and security guarantees with double validation.
TOMO Crypto Token & TRC-21 Token
$TOMO is the native token of the whole TomoChain ecosystem.
The token has 18 decimals and exists natively on TomoChain network in the TRC-20 standard.
TRC-20 is the most common token standard on this network. It corresponds with the ERC-20 standard on Ethereum, which creates a foundation for users to bring digital assets from Ethereum to TomoChain and vice versa.
$TOMO token plays an important role that ensures the stability and security of the TomoChain network.
Pay for transaction fee

Stake to secure the network and earn reward

Open governance
Tomo Bridge
Tomo Bridge is exclusively developed by the TomoChain team, which enables users to transfer assets from Ethereum to TomoChain and the other way around.
The application also supports wrapping Bitcoin to TomoChain for trading and transferring at a higher speed and cheaper gas fee.
At the time of this article, Binance Smart Chain and Solana are also added on Tomo Bridge.
You can access the application at: bridge.tomochain.com
TomoChain Dapps
The number of dapps on TomoChain is growing steadily through time. 
Aside from native dapps developed by the TomoChain team, other great products are entering the space, especially from Bacoor and Corefy Fintech.
Pantograph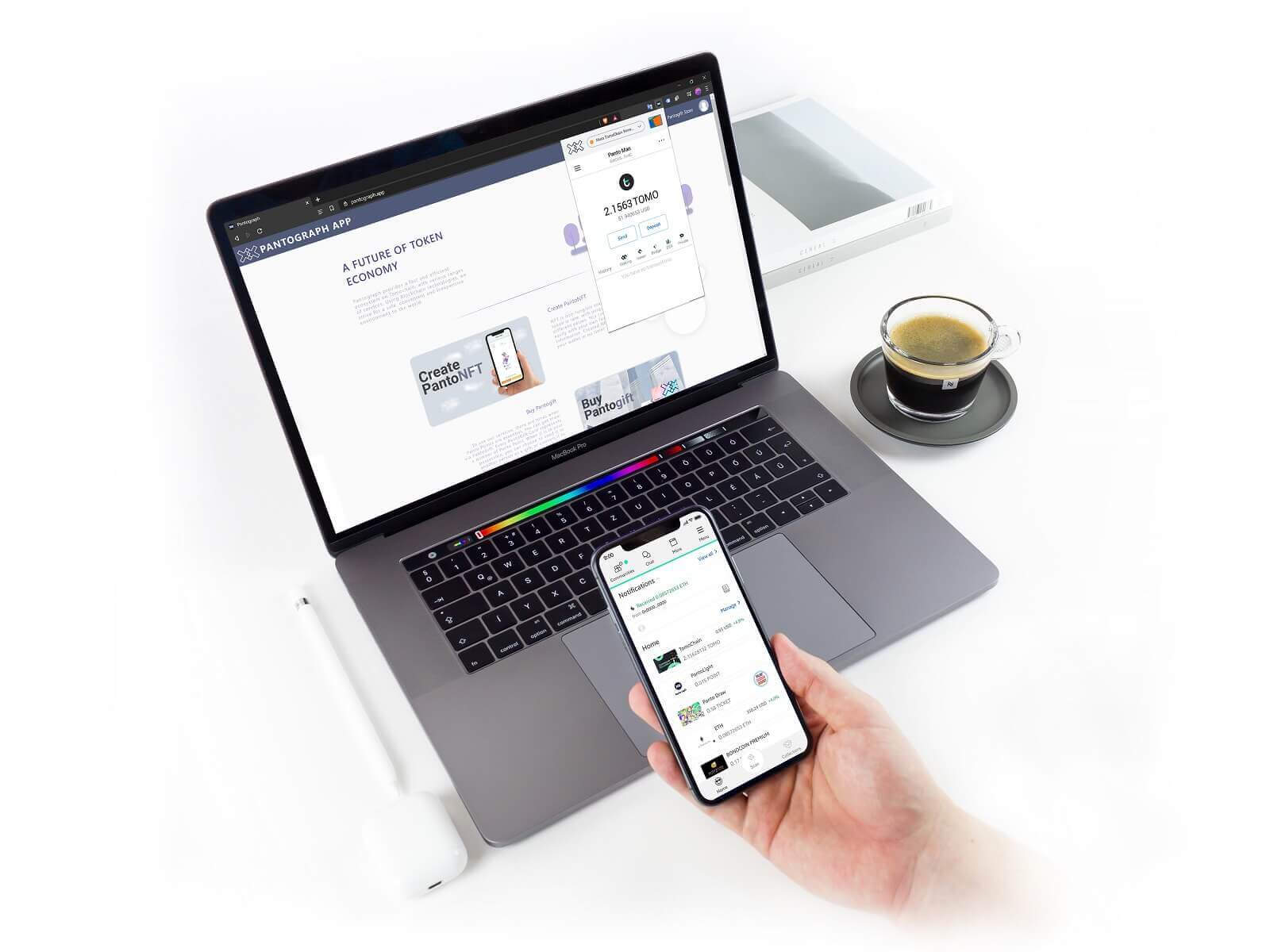 Pantograph is an all-in-one wallet exclusively designed for TomoChain.
The app offers a built-in community, token management feature including send/receive function, Smart Proof feature, NFT management, NFT market, and much more.
Pantogram is another cool feature that enables user to create NFT from an Instagram post.
User can also create NFT in TRC-721 standard without coding directly on Pantograph.
Pantograph DEX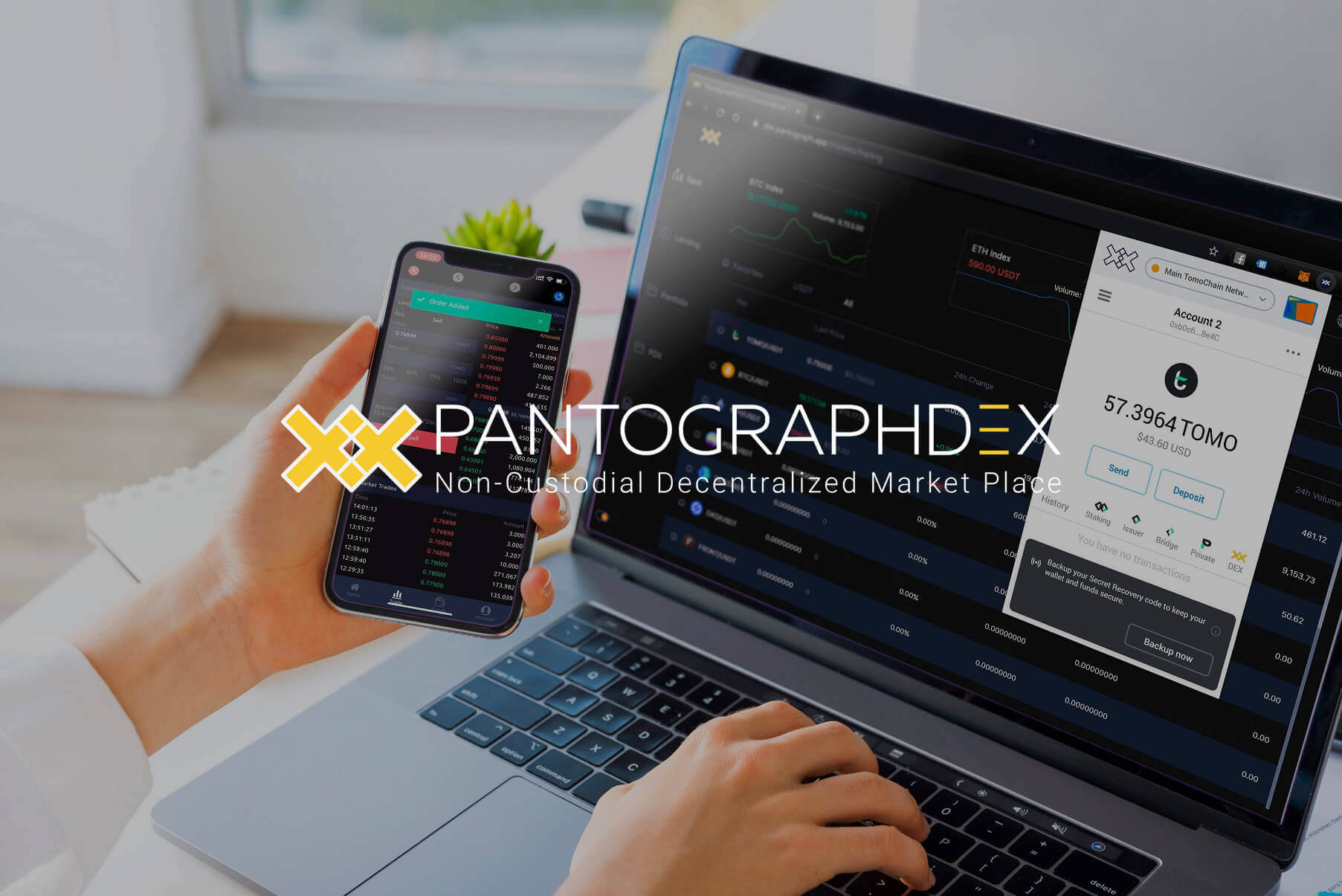 Pantograph DEX is empowered by TomoDEX.
This exchange allows users to trade BTC, ETH, TOMO and other token in TRC-20 standard with USDT.
Pantograph is a part of the Pantograph ecosystem.
Pantograph Extension
Pantograph Extension is quite similar to Metamask.
The extension now exists on Chrome, Firefox, Brave and Opera.
It enables user to access TomoChain Dapps directly on desktop browsers. By using Pantograph extension, users can skip the part of setting up RPC for TomoChain mainnet and testnet.
Pantograph WordPress Plugin
The Pantograph WordPress Plugin lets users monetize their contents by accepting special subscription.
It operates as a subscription scanner, which requires users to hold a certain amount of token to see specific types of contents on a WordPress website.
(*) The whole Pantograph ecosystem is fully developed by Bacoor Company.
Tomo Finance
Tomo Finance is the first CDP on TomoChain. It allows user to put in TOMO as collateral to borrow the stablecoin TAI.
This application is developed by the Corefy Fintech Company.
TOMO Price Prediction
$TOMO as the native token of TomoChain ecosystem has proven its value through time.
In fact, development on TomoChain just started to grow in 2019, and it will continue steadily in the future.
It means more people will join the network in not so distance future, and bring more utilities that push the TOMO price higher.
Which wallet supports TomoChain?
To enjoy the power of TomoChain, you need to connect to its network.
The Fastest Way: KEYRING PRO
This method will save you time in setting up your wallet, or approving your transactions.
KEYRING PRO exists as a Multichain Mobile Browser Extension, supports a wide range of Blockchain from Ethereum to Polygon, Binance Smart Chain, Huobi ECO Chain, Fantom, Avalanche, Harmony ONE, TomoChain, and more (coming soon).
ALL YOU NEED TO DO IS ONE SCAN
KEYRING PRO is now available on App Store, Play Store, and as APK for limited locations.   



1. On KEYRING PRO, 'Create a new wallet' or 'Import a wallet', you can use 01 Private Key to import all wallets at once on all supported chains, which includes Bitcoin (BTC), Ethereum (ETH), Binance Smart Chain (BSC), Huobi ECO Chain (HECO), Harmony One (ONE), Polygon (MATIC), TomoChain (TOMO).
2. Go to TomoChain Dapp
3. Click 'Connect to a Wallet'
4. Choose Wallet Connect, scan with KEYRING PRO, then choose 'Connect'
Pantograph App & Extension
Pantograph is now available on App Store, Play Store, as APK, and as extension on Chrome, Firefox, Brave, Opera.
Get the full instruction at: Pantograph.io
TomoChain Faucet
TomoChain Faucet is a place for developers to claim test token on the testnet.
Developers can claim up to 15 test TOMO each time by following 03 steps below.
Insert your address
Click verify, then 'Request 15 TOMO'
Can you stake TOMO?
You can stake TOMO directly on the Tomo Master at: https://master.tomochain.com/
To become a validator (Masternode), you only need to stake 25,000 TOMO (~$69,000 USD at the time of this article)
Where to buy TOMO Crypto
You can purchase TOMO directly on KEYRING PRO, or Pantograph.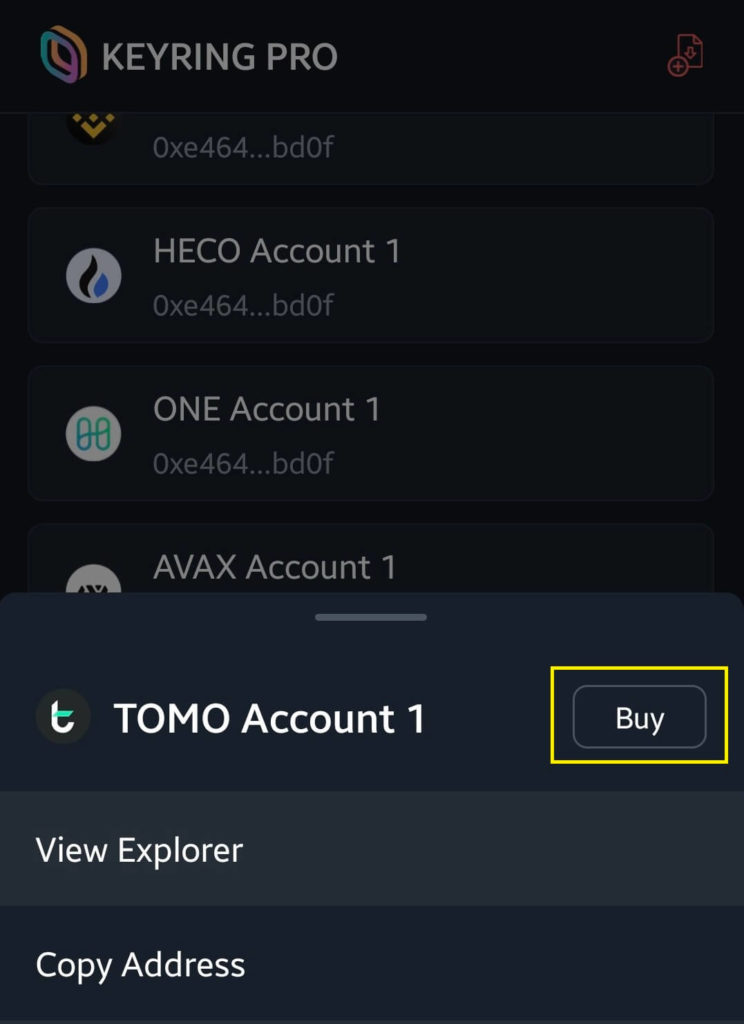 You can also purchase TOMO directly on popular exchanges as Binance, Kucoin, etc. as below.
What is TOMO Crypto – Useful Links
TomoChain Homepage: https://tomochain.com/
TomoChain Explorer: https://scan.tomochain.com/ 
TomoChain Bridge: https://bridge.tomochain.com/
TomoChain Wallet: https://keyring.app/ or https://pantograph.io/
Documentation: https://docs.tomochain.com/
Telegram: https://docs.tomochain.com/
Github: https://github.com/tomochain