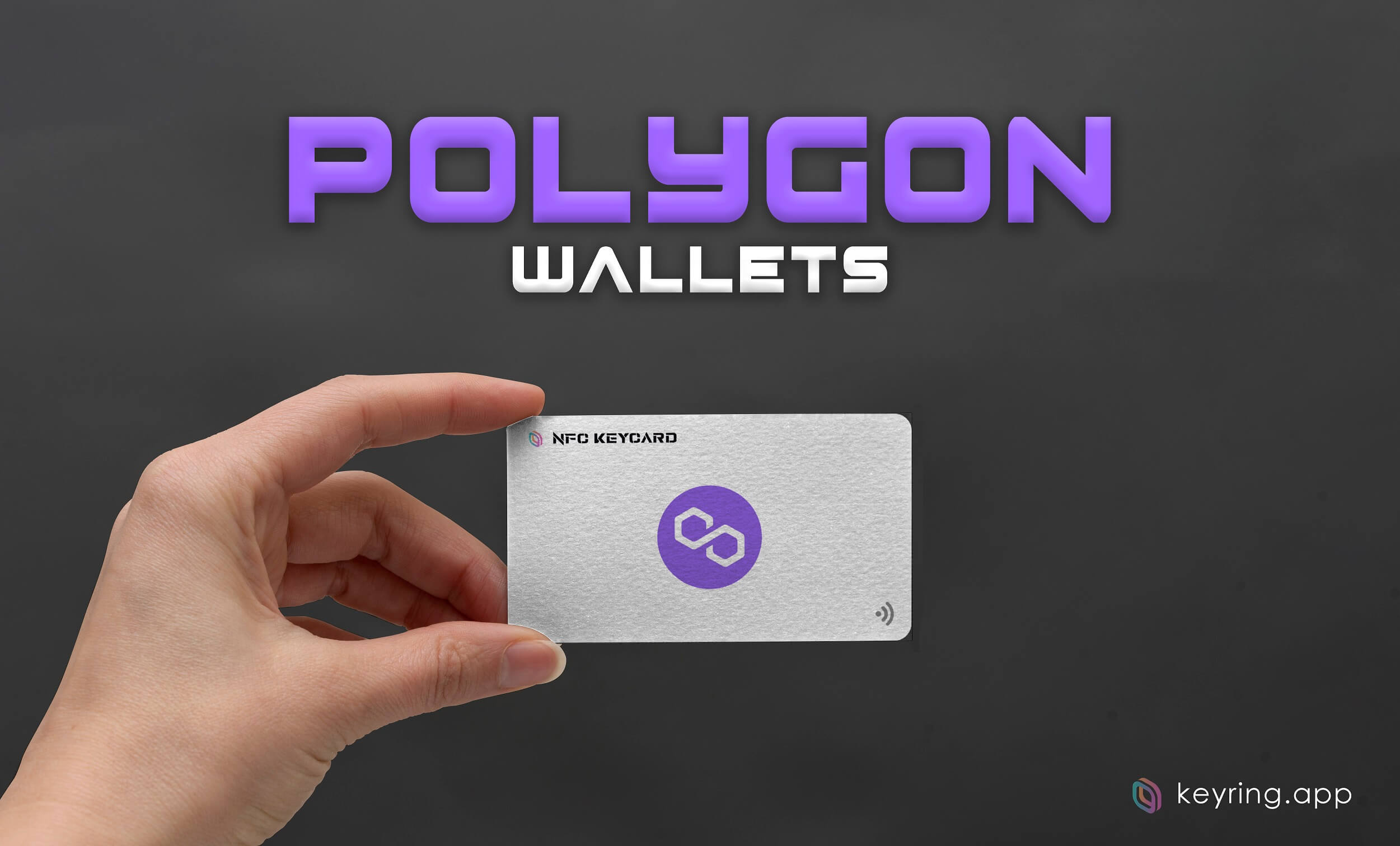 Polygon Wallets
Polygon Web-based Wallet
This native wallet has been built by the Polygon team on web-based environment.
It comprises a full package from wallet, bridge, token swap, staking to exchange token for gas.
The bridge allows users to convert assets from other chains to Polygon, whereas its token swap offers instant swap from one token to another at a market rate.
In case your wallet is running out of $MATIC, you can exchange your tokens back to $MATIC to pay for gas fee with 0 MATIC in your balance.
Polygon testnet web wallet is a different version for developers to test out their apps.
To start using the Polygon Web Wallet, users first need to connect wallet.
Click 'Connect Wallet'
Choose Wallet Connect'
Scan the QR with KEYRING PRO
Web wallet is only convenient for users using Desktop, where it performs best.
In fact, this is the least secure type of wallet.
You can only open the wallet by typing in an URL on your browser.
From time to time, a typo can lead you to a phishing page that might steal everything within your wallet.
Metamask – Desktop Extension – Polygon Wallets
Most enthusiasts in this space will recognize Metamask from the first glance.
The wallet exists as an extension on various desktop browsers such as Chrome, Firefox, Opera, Brave.
Metamask lets users interact with Dapps instantly from their desktop browsers.
Howerver, for Safari or Microsoft Edge users, the app is unusable since those browsers are unsupported.
Aside from Ethereum, Metamask can operate on other chains with RPC data imported.
Below is how you can add Polygon RPC to Metamask.
Open Metamask, click on the 'Ethereum Mainnet' dropdown
Choose 'Add Network'
Click 'Save'
>> What is Matic Faucet? Mumbai RPC <<
KEYRING PRO – Mobile App – Polygon Wallets
As one of those supportive Polygon wallets, KEYRING PRO has differentiated itself from the crowd.
The app is a multichain wallet facilitating advantages of Wallet Connect infrastructure.
This allows users to sign in and approve transaction from anywhere, on any browsers, across different devices with one single trusted device.
The method ensures the highest security and administration as authorization will come from one place.
KEYRING PRO is also compatible with NFC hardwares, which means users can export their accounts to an NFC Keycard, then use the card to authorize transactions as a hardware wallet (cold wallet).
Buy Crypto is another cool feature that allows users to purchase crypto directly to their wallet with a credit card.
Similar to Metamask, users can add RPC on KEYRING PRO to use custom chain.
Create a multichain account
Add RPC
On home screen, tap 'Menu' icon
Choose 'Manage Chains'
Tap on the '+' icon
Insert RPC parameters, please refer to the RPC section below.
Tap 'Add'
On the home screen, choose an address you want to use on the newly added chain, or you can create a new account
Choose 'Use this address with other chains'
Choose the newly added chain
Tap 'Create'
FIND YOUR ADDRESS
On the home screen, find your Account
Tap on it
Tap 'Copy Address'
What is Polygon zkEVM?
Polygon zkEVM is an adoption of zero-knowledge (ZK) technology to the current structure of Polygon.
In fact, Polygon zk-Rollup is expected to solve the scalability issue of Ethereum through mass transfers rolled into one single transaction.
The new infrastructure will be fully compatible with Ethereum from smart contracts, developer tools to wallet operations.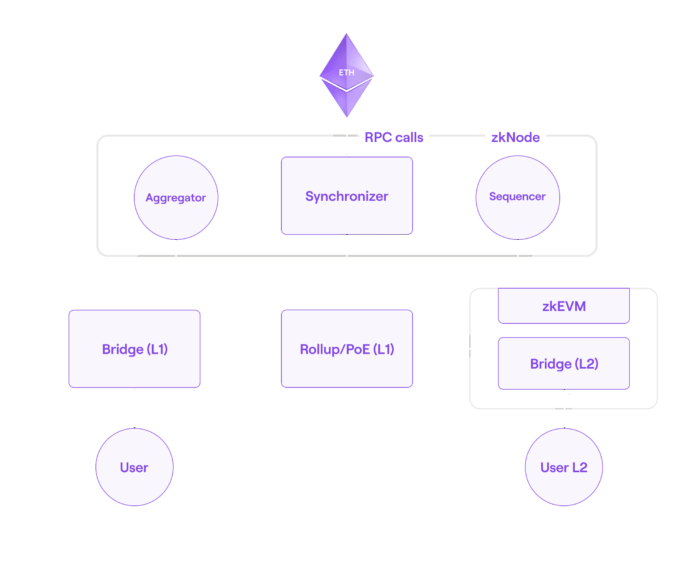 This means develpers can easily deploy any Ethereum smart contract to Polygon zkEVM that scaled by ZK proofs.
ZK proofs would reduce transaction cost and increase throughput efficiently while inheriting Ethereum security.
It technically rolls up a large batch of transactions, then proves all of them to the Ethereum network using one single ZK validity proof.
As a result, the zkEVM brings down network fee and at enhances speed significantly with transactions verified on Ethereum network via a ZK validity proof.
>> What's zkSync? zkSync Airdrop <<
Polygon Node
Polygon Node at the current version Hermez 1.5 includes two main categories:
Leafs: node of the tree that instead of pointing to other nodes, it holds data.

There is 4 types of leafs:

Nonce: Counter of transactions made by an account
Balance: amount of Ether holded by an account
SC code: code of a smart contract
SC storage: persistent data stored by a smart contract

Branches: node of the tree that point to other nodes.
To establish a Node on Polygon, please visit this page.
>> What is Binance Smart Chain Faucet For Gas <<
>> What is Avalanche Faucet? Fuji Testnet <<
>> What is Rinkeby Etherscan <<
Polygon RPC
Polygon Mainnet RPC
Chain ID: 137
Network Name: Polygon Mainnet
Network RPC URL: https://polygon-rpc.com
Currency Symbol: MATIC
Block Explorer URL: https://explorer.matic.network/
Polygon Testnet RPC
Chain ID: 80001
Network Name: Polygon Mainnet
Network RPC URL: https://rpc-mumbai.maticvigil.com
Currency Symbol: MATIC
Block Explorer URL: https://mumbai.polygonscan.com/
Polygon Faucet
Polygon Faucet is a spot for users to claim free MATIC on the testnet environment.
Testnet MATIC has no market value and cannot be transferred to the mainnet in anyways.
Learn more about Polygon Faucet.
>> What is Avalanche Subnet <<
>> 03 Things you should know about Bitcoin Rejoin <<