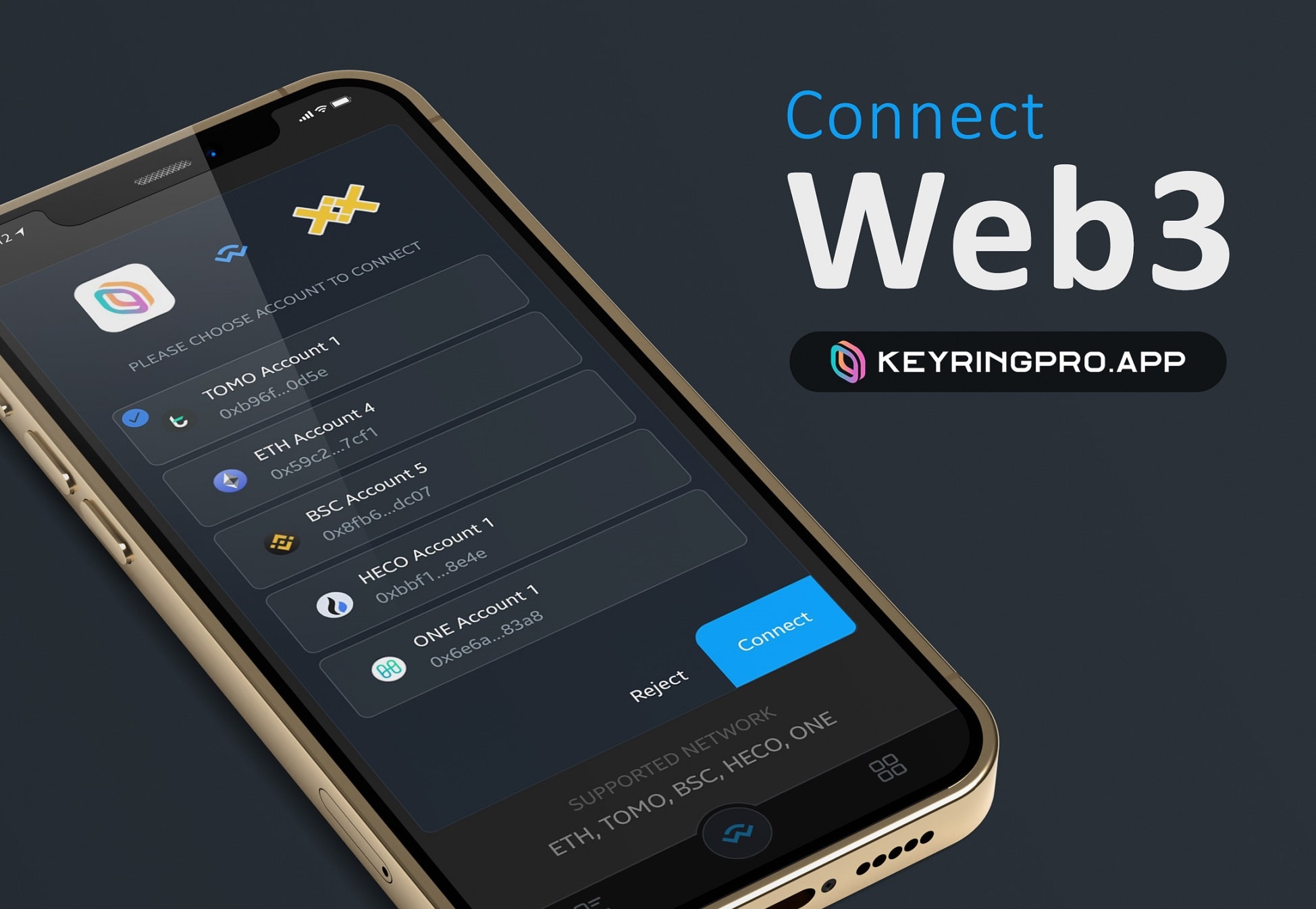 Web3 Wallet: Easy Connect To Web3 Dapps Via KEYRING PRO
Web3 Dapps Expansion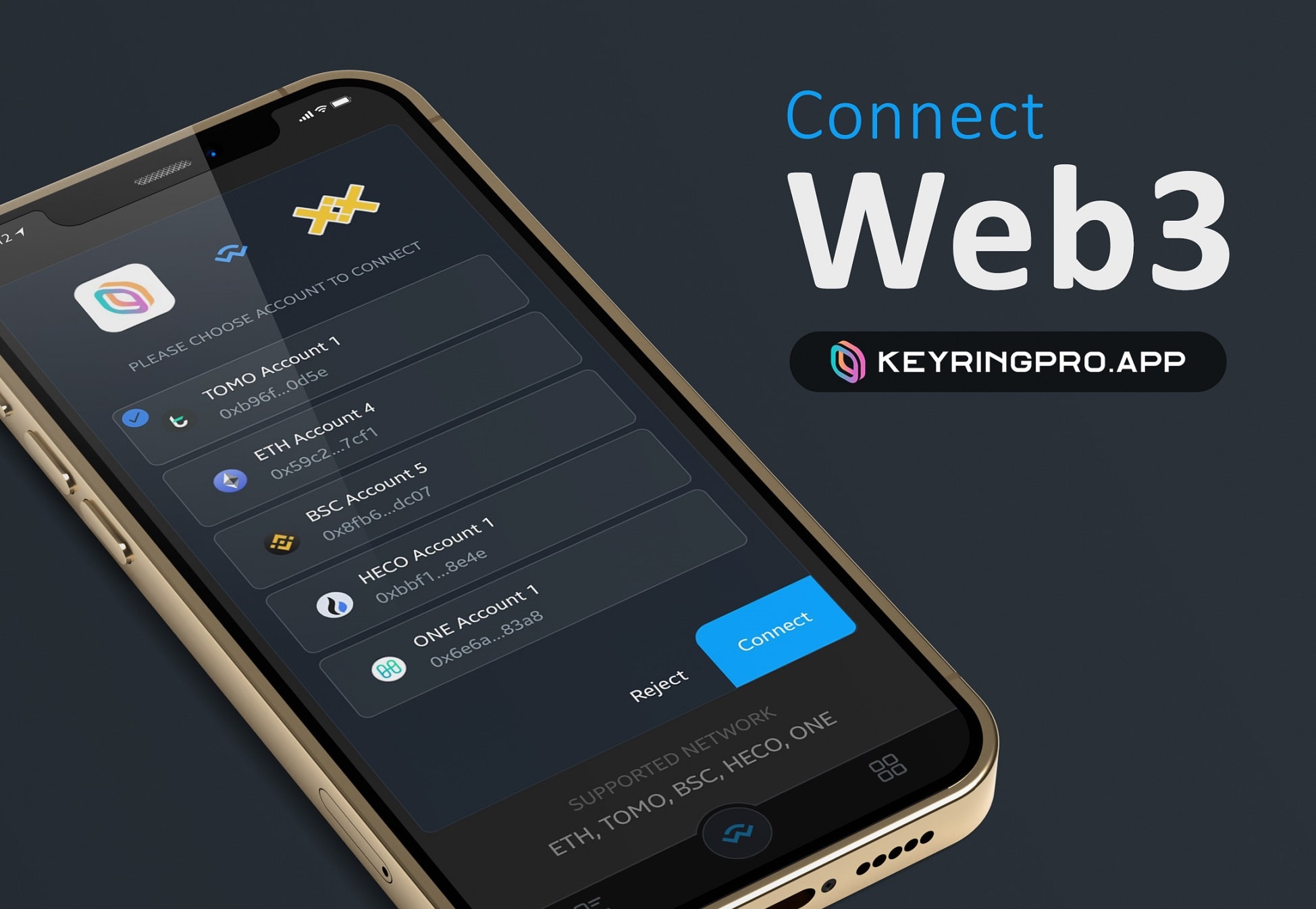 Web 2.0 – Where it all started
Web3 (Web 3.0) is an extended version of Web 2.0 that comes with great improvements. It emphasizes the idea of 'Trustless & Permissionless'.
The concept of Web 2.0 was introduced by Darcy Dinucci by late 1999, and blooming vigorously in 2004 since the Web 2.0 Conference. The fundamental core of Web 2.0 focuses on user-generated content, virtual community, and media sharing.
At present, participating on Web 2.0 is one of the main purposes for most people when it comes to Internet usage, which draws millions of traffic on each popular sites everyday. Facebook, Twitter, Youtube, and Wikipedia are great examples for early adopters of Web 2.0.
Only when Tim Berners-Lee introduced Semantic Web in 2006, people started to realize enormous issues of Web 2.0 in its nature of centralisation.
Data centralisation is vulnerable in security, authorization, and privacy. As a reason, everything is stored in one centralized server that managed by one entity. What if that entity decided to shut everything down?
Web 3.0 – It's the solution
Thanks to the development of Smart Contract, modern Web3 now exists as a solution for major problems of Web 2.0, based on the decentralized model that enables peer-to-peer interaction.
Specifically, 'Web3 Dapps' stands for 'Decentralized Applications on Web 3.0'. It generates open, trustless and permissionless networks.
Open: applications are built from open source code, which is accessible for anyone to monitor and contribute.
Trustless: participants can interact publicly, or privately on the network without a trusted third party since everything is transparent, but anonymous.
Permissionless: the P2P method enables direct interaction between parties without going through a third party.
Basically, Web3 Dapp does not operate on one single centralized server, or managed entirely by one single entity. To operate properly, it needs a Blockchain as the base to record data, store media by using IPFS protocol, verify ownership, provide user login through Web3 Wallet, and so much more. Hence, even if the main entity that established the app stops its operation, all the major parts of the Dapp will remain unchanged.
On the other hand, user will need to use a Web3 Wallet to sign in and interact on a Web3 Dapp without any registration, or submit any personal information. It protects user's privacy and extends user's accessibility by granting access to everyone from anywhere in the World.
One of the most popular Web3 Dapps at the time of this article is Uniswap with more than 10 million visits monthly.
What is Web3 Wallet?
Web3 Wallet is a mandatory tool for users to fully participate in Web3 Dapps.
Technically, Web3 Dapp does not require user to get through any registration process, where user's identity is collected. However, in order to operate accurately, Web3 Dapp needs to distinguish different users to return the correct data. By connecting to a decentralized app through a Web3 Wallet, users can verify their identities and stay anonymous at the same time, as each wallet address is unique.
The method ensures the best interest for users and completely protects user's privacy.
Web3 Wallets now exist in various formats as mobile app, browser extension, desktop app, or hardware wallet, etc.
In term of security, each format would contain different security risks, but obviously they're still much safer than the centralized way. Commonly, a Web3 Wallet and a Web3 Dapp must stay on the same device to interact. In some cases, the Private Key of user might be leaked once the main account is accessed on unsecure devices.
Fortunately, with the power of constant improvement, user now can sign in and approve transaction remotely from a trusted device. This method is called Wallet Connect, which removes digital traces, and protects user from computer malwares, untrusted devices, or even cyber-attack.
KEYRING PRO: 'WalletConnect' is the new trend
'WalletConnect' has re-defined the whole concept of Web3 Wallet.
'Web3Connect' to the World
In the journey of 'Web3Connect' to the World, convenience stays as one of the top priorities in app architecture, due to the complexity of the technology. On the other hand, security and privacy are even more important which illustrate the root of Web3 advantages. KEYRING PRO accommodates all of those essences that elaborates the concept of 'Web3Connect' and provides the highest security for users at the same time.
KEYRING PRO facilitates and improves the technology of 'WalletConnect'. It lets user connects and approves transactions on Web3 Dapps remotely from a trusted device. In addition, the app is multichain compatible that solves the issue of multichain wallet management.
For instance, user can creates a multichain wallet on Ethereum (ETH), Binance Smart Chain (BSC), Houbi ECO Chain (HECO), Harmony ONE (ONE), TomoChain (TOMO), Polygon (MATIC) with the same Address and Private Key on KEYRING PRO. Bitcoin is also supported but the BTC Address and Private Key would be different.
Web3 Dapps are accessible on most browsers. However, not all browsers will support plugins, which specifically means it would be impossible for some users to sign in and interact on Web3 Dapps through Safari, or Microsoft Edge.
It's time for Wallet Connect!
In particular, you can access Uniswap from your friend's Ipad on Safari by connecting through KEYRING PRO app on your phone. Every transaction will get approved from your phone. No extension or plugin is needed, all you need to do is one scan. This method will not leave any digital trace, which ensures your account is safe and secure at all time.
Download KEYRING PRO
KEYRING PRO is now available on iOS, Android, and APK



Check balance Ethereum Wallet and More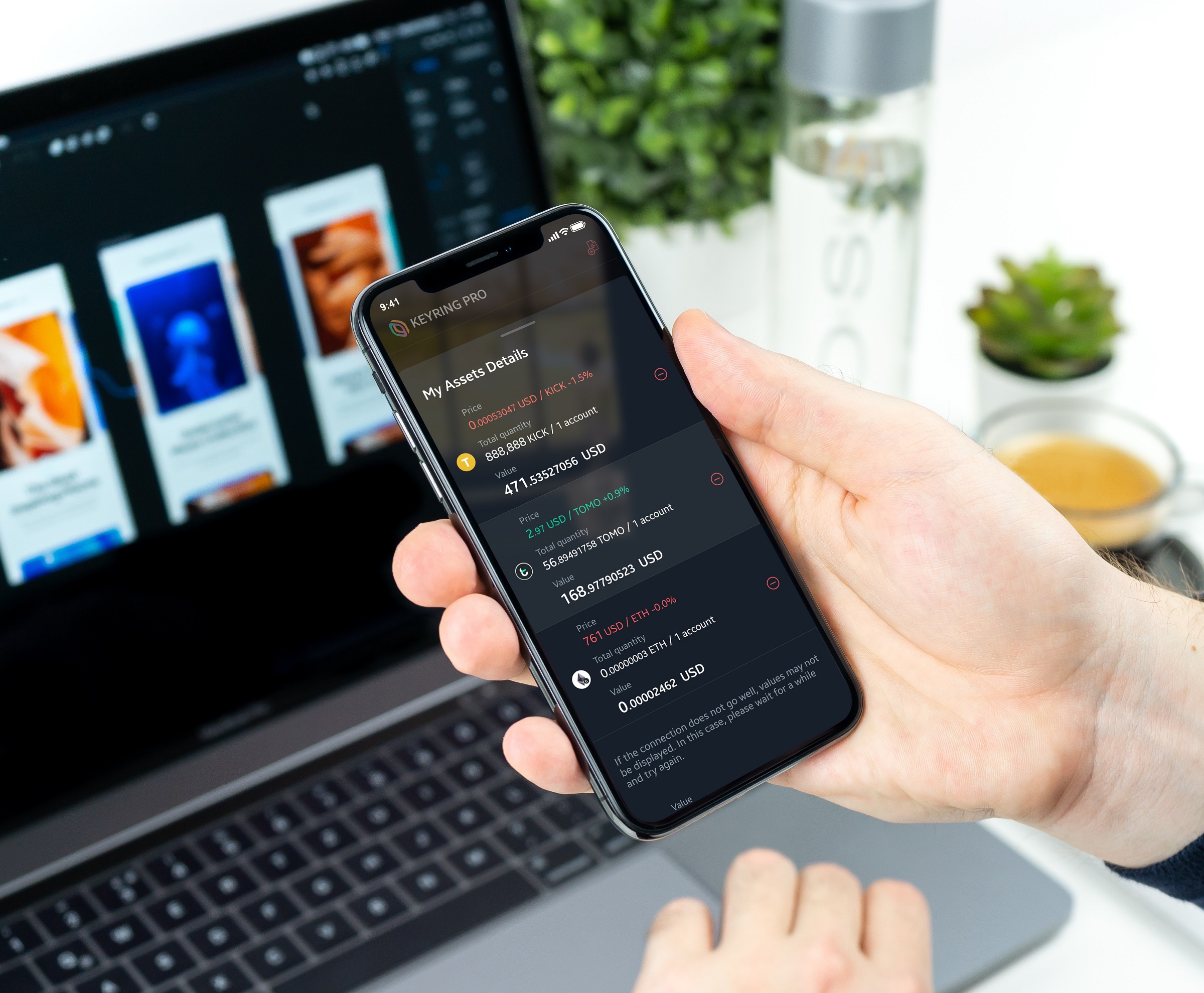 The new version of KEYRING PRO enables user to check for balance of each assets in detail not only on Ethereum chain, but also on all supported chains. You can even add custom token by pasting the Smart Contract address. The app will display all tokens listed on Coingecko with live market price.