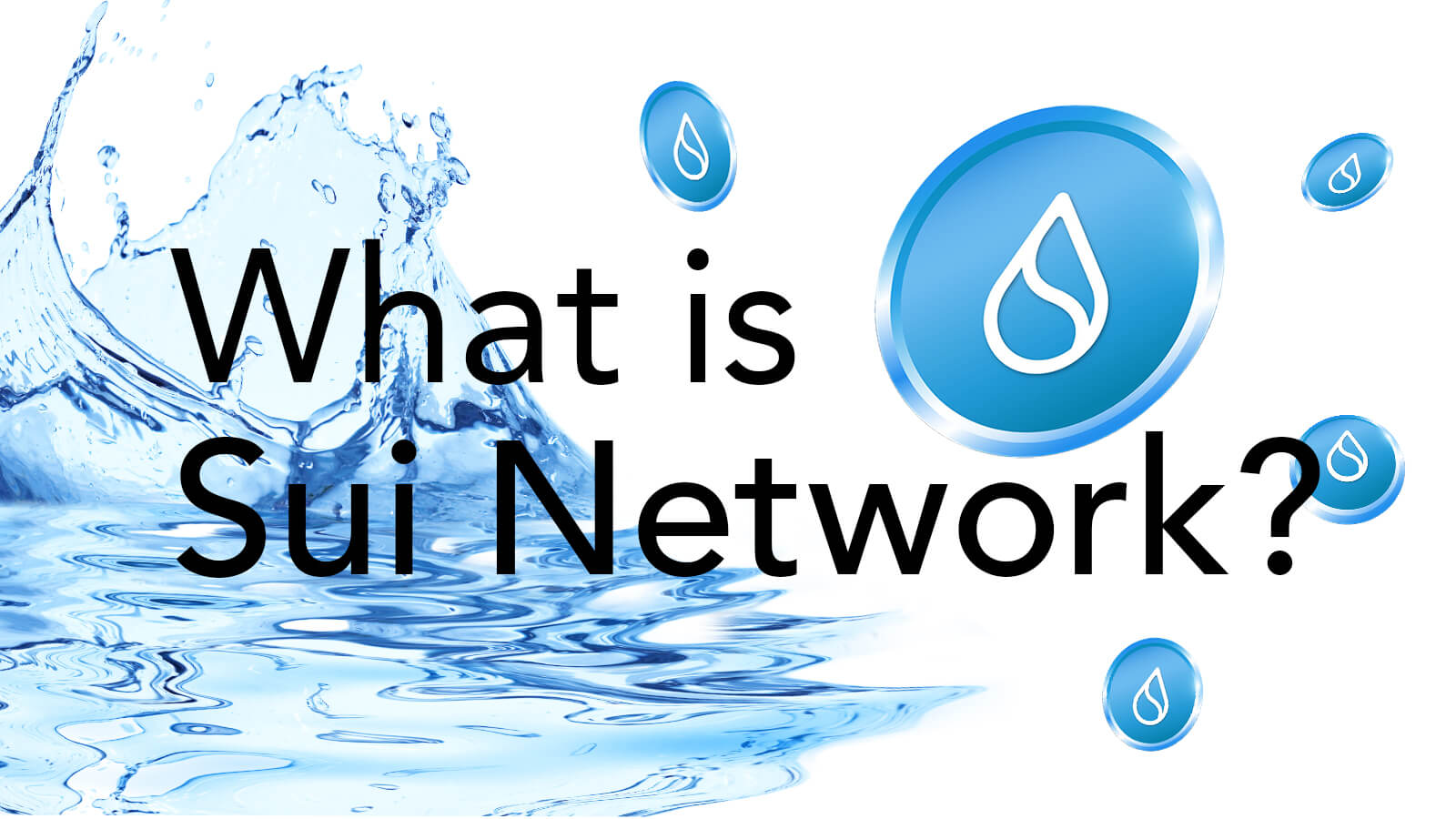 It is common knowledge that if the Bitcoin price is stable, altcoins pump. This is indeed what has happened in the last few days.
Key takeaways from this week have shown a lot of launches and integrations.
The most controversial is the rise of the Sui airdrop, which is expected to grab traders' attention even when it's yet to launch on mainnet.
So, if you're excited or even just curious about building in Web 3, this is the right place.
Builders, crypto enthusiasts, and those who want to learn all things sweet, this article is a thorough channel for you to learn about Sui Network.
What is Sui Network?
Sui network is the world's first permissionless Layer-1 blockchain that is known for its low latency and high throughput.
The network is designed from the ground up to make it safe and easy to build.
As you're likely to know, today's Web 3 experiences are just too complex for Internet users. Therefore, to accelerate the adoption of Web 3, the most important part is building the foundations for the decentralized future.
Sui Network is here to solve the problem, being the prime candidate for on-chain use cases such as DeFi and GameFi.
Binance Research has published a report, showing that:
"The Aptos and Sui are the new kids on the block."
Like Aptos, Sui Network is seeking to tackle the blockchain trilemma – referring to the idea that a blockchain has to optimize 2 out of 3 main features between decentralization, security, and scalability.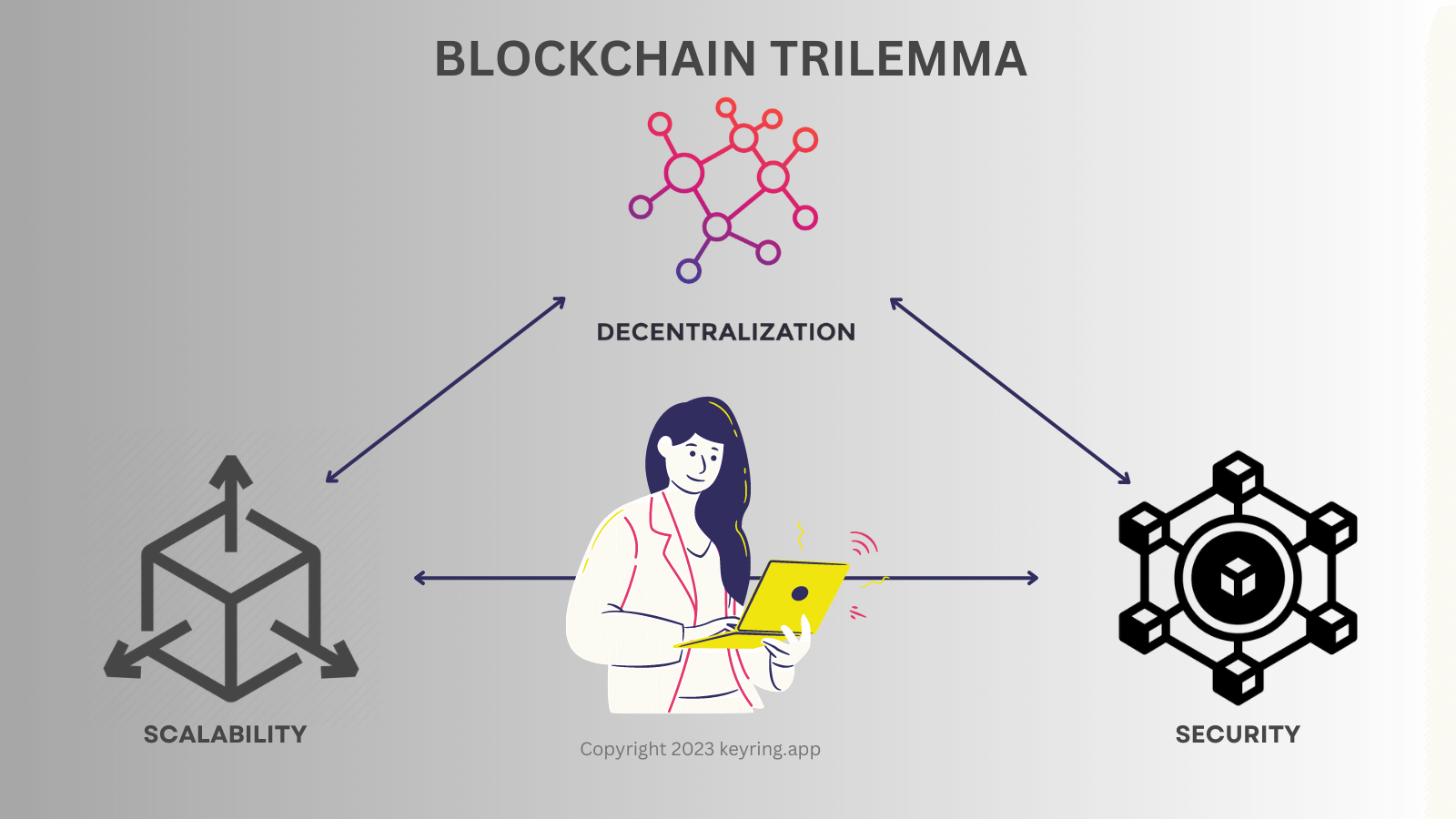 What Makes Sui Network Unique?
The team behind Sui Network
Sui network is developed by Mysten Labs – a team of ex-Meta engineers based in San Fransico, USA.
Mysten Labs is funded by high-profile crypto venture capitals such as Jump Crypto, Apollo, Binance Labs, Coinbase Ventures, etc.
In December 2021, a16z invested $36 million in Series A, followed by $300 million-worth Series B, which eventually raised the company's valuation.
Sui Network's outstanding features
Sui Network aims to redefine asset ownership by deploying different consensus and transaction processing mechanisms.
With decentralization being a spectrum, Sui recognizes that lowering hardware requirements is the key component of acquiring the best decentralization level.
The blockchain ranks top in terms of lowest hardware requirements among major L1s, as the table follows
| | | | |
| --- | --- | --- | --- |
| Blockchain | CPU Core | RAM (GB) | Storage (GB) |
| Sui Network | 2 | 8 | 50 |
| Polkadot | 4 | 16 | 1000 |
| Ethereum | 4+ | 16+ | 1000+ |
| Cosmos | 4 | 32 | 500-2000 |
| BNB Chain | 8 | 16 | 1000 |
| Avalanche | 8 | 16 | 1000 |
| NEAR | 8 | 24 | 1000 |
| Aptos | 8 | 32 | 1000 |
| Solana | 12 | 128 | 1500 |
Source: Company websites
In addition, the chain has cutting-edge features:
The transaction is fast
Elegant and easy to use
The user can understand the menu perfectly
There are no defects in the design
The product runs according to what the user expects
Sui Network Launched Its Permanent Testnet
https://twitter.com/SuiNetwork/status/1641190388869263362
A long-running, decentralized, and permissionless testnet has been announced.
Before this testnet's launch, Sui launched Testnet Wave 1 and 2. But this testnet is guaranteed to run even after the mainnet is launched on the network.
As of the date of its publishment, there are several upgrades compared to the Devnet, in terms of validator set and full node.
Specifically, the permanent testnet has a total of 93 validators and 02 Mysten Labs-operated validators, which are distributed on a geographical basis.
Sui uses the "Object-centric Model"
In other traditional blockchain models, nodes validate transaction flows individually.
In Sui, chain data focus on objects instead of accounts. Nodes only look at the transaction data that is relevant to them.
This architecture allows Sui to target verticals such as NFTs, gaming, messaging services, social networks, and decentralized platforms.
Sui Network has a Community Access Program (CAP)
As predicted, once the incentivized testnet is announced, a $SUI token airdrop is to follow.
$SUI token serves as the native token of the platform and has four primary purposes: governance, gas fees, staking, and as an underlying asset of the Sui economy.
The total supply is capped at $10 billion.
The native token $SUI is yet to release, but we all expect it is going to be massive.
The airdrop has gained a lot of momentum over the past few weeks since the Arbitrum, especially when the network is seen as a competitor of the Aptos blockchain.
However, there is no official $SUI airdrop.
Instead, they are focusing on the "Community Access Program" (CAP)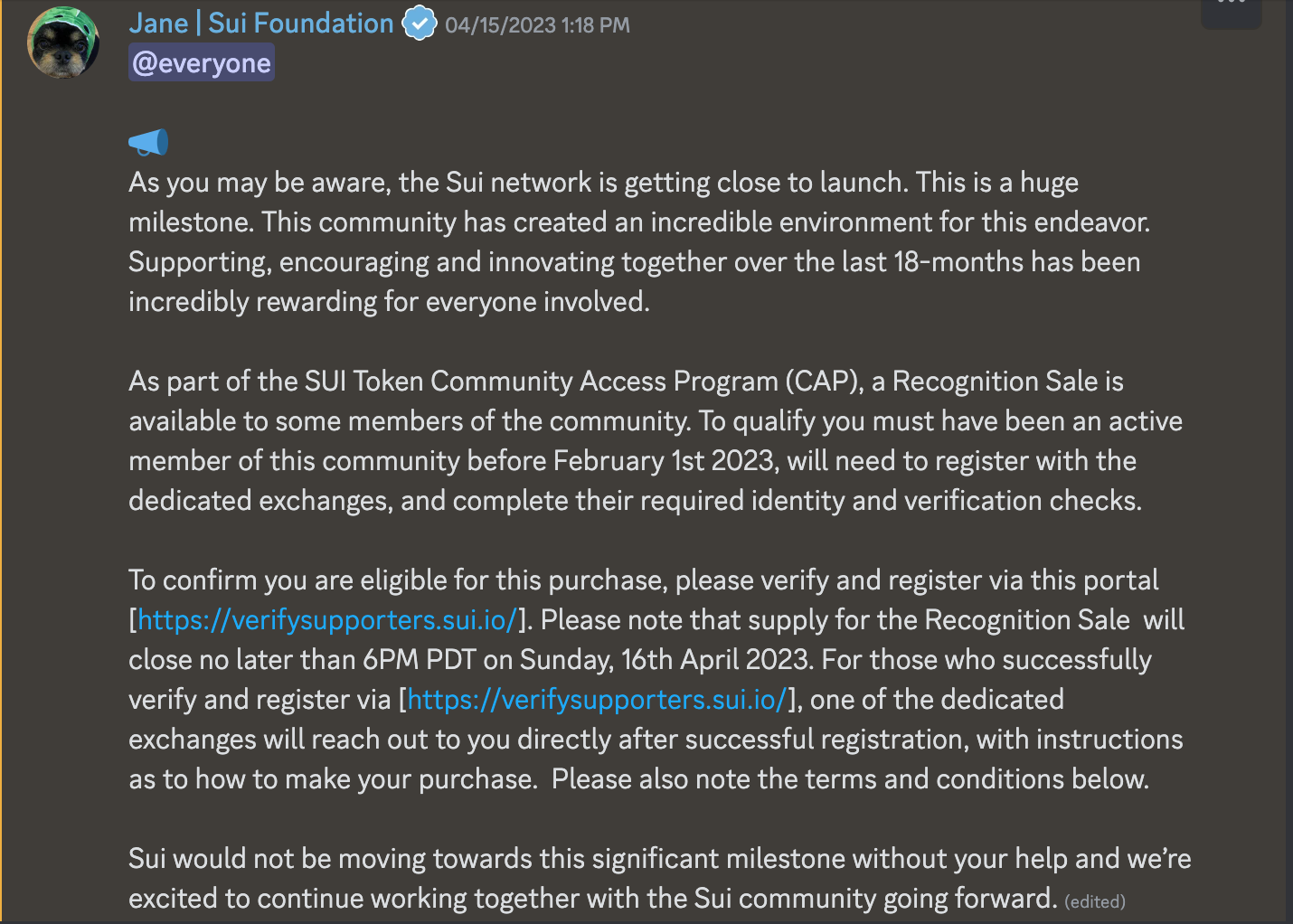 The announced Recognition Sale is part of the CAP and is available to a certain number of members in the community.
The sale has already been announced on Bybit, KuCoin, and OKX.
According to it, to qualify for the sale, you must have been an active member of the Discord community before February 1st, 2023, and need to register with the dedicated exchanges as well as go through a verification process.
How to Join Sui Network's CAP
Community Access Program is like a long-running event to reward Sui supporters who help test Sui apps and promote the platform.
Follow these necessary methods to be deemed eligible for the program:
Receive testnet $SUI tokens
First, you need to download the Sui Wallet browser extension.
Then, click 'Request Testnet $SUI Token" to receive 01 $SUI.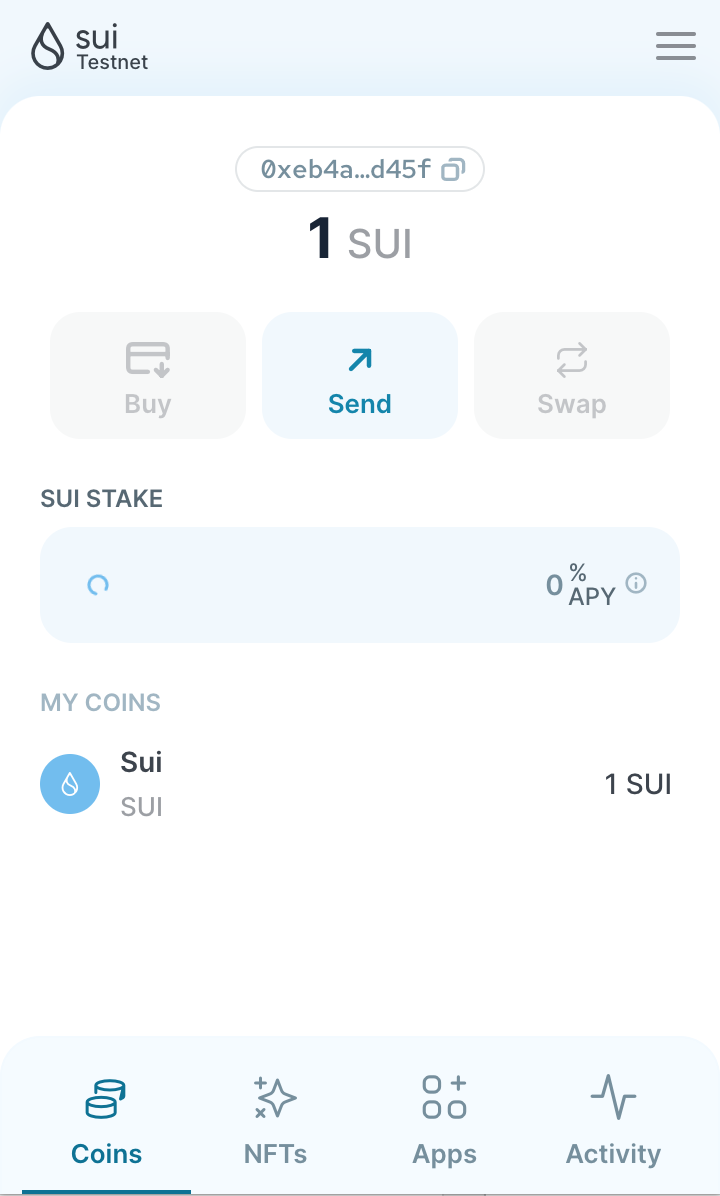 You can also request more $SUI tokens on the devnet-faucet on the Discord channel by using the command! faucet "your wallet address" to request tokens at the "testnet-faucet" channel.
Sui Stake and Earn
In your Sui Wallet, click 'Stake & Earn SUI'.
Select a validator, and enter the amount you want to stake. Click 'Stake Now'.

Participate in Sui Testnet Waves
Sui testnet Wave 1 and 2 happened in August 2022 for Sui validators.
Wave 3 is expected to take place on testnet and is yet to announce.
If you want to know when Wave 3 is scheduled, follow Sui Network Twitter for any updates.
Earn Testnet Mints and Play Games
Check out some game guilds or NFT marketplaces to increase your chances of winning the $SUI token airdrop.
Registration on Sui Name Service (SuiNS)
This step needs to be done on Sui Wallet.
Go to 'Apps' tab
Click 'Sui Name Service (SuiNS)'
Search for names on the website
Connect wallet
Hit 'Register Name'
However, before all of these steps, you need to be verified through the Supporters Portal.
It's all about consistency when it comes to airdrops.
What you also need to do is stay active on-chain, and keep up with the updates from Sui Network communities.
Got tips, questions, and comments? Please direct both vitriol and declarations of love on Twitter @KEYRING_PRO