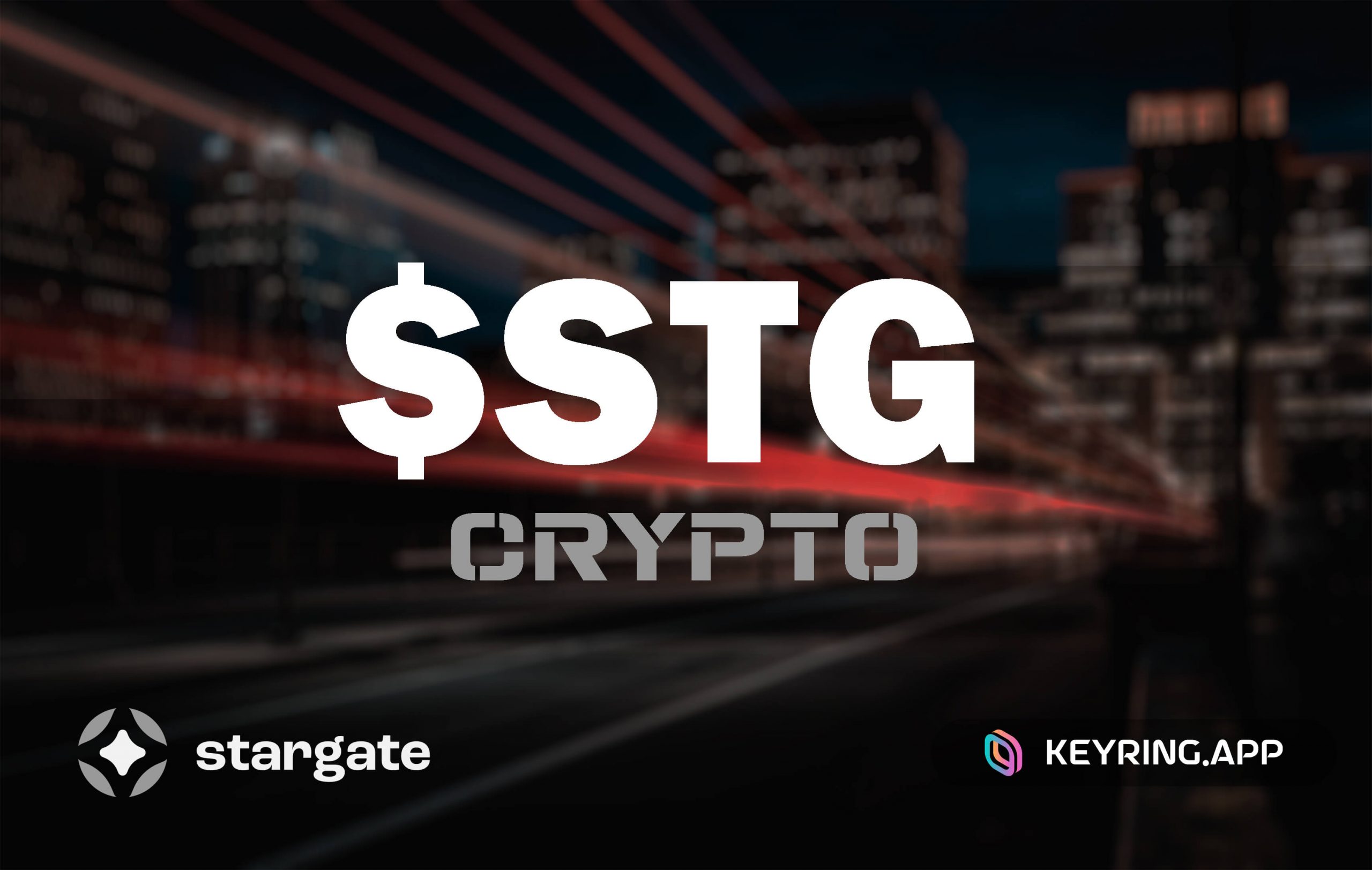 What is $STG Crypto
$STG Crypto
$STG crypto implies the native token of Stargate Finance, a yield farming, cross-chain bridge with over 400 million USD in Total Value Locked (TVL) backed by Alameda Research Team from FTX.
Since the latest update, it has brought voting power to Stargate DAO's participants as the governance token.
In terms of staking and farming, users will find $STG crypto as the main reward.
The token now exists across different chains such as Ethereum, BSC, Avalanche, Arbitrum, Polygon, Optimism, and Fantom.
$STG Ethereum Contract Address: 0xaf5191b0de278c7286d6c7cc6ab6bb8a73ba2cd6
$STG BSC Contract Address: 0xb0d502e938ed5f4df2e681fe6e419ff29631d62b
$STG Avalanche Contract Address: 0x2f6f07cdcf3588944bf4c42ac74ff24bf56e7590
$STG Polygon Contract Address: 0x2f6f07cdcf3588944bf4c42ac74ff24bf56e7590
$STG Arbitrum Contract Address: 0x6694340fc020c5e6b96567843da2df01b2ce1eb6
$STG Optimism Contract Address: 0x296f55f8fb28e498b858d0bcda06d955b2cb3f97
$STG Fantom Contract Address: 0x2f6f07cdcf3588944bf4c42ac74ff24bf56e7590
>> zkSync Airdrop <<
Add $STG to KEYRING PRO
Tap on Wallet Value section
Scroll down, choose 'Add token'
Choose a chain, insert $STG Smart Contract address
Tap 'Next', then 'Add'
About Stargate Crypto
Stargate project differentiates itself from others in its cross-chain ability.
For instance, Joe can swap 100 USDC on Ethereum to 100 USDT on BSC in one single transaction through Stargate Finance or its widget.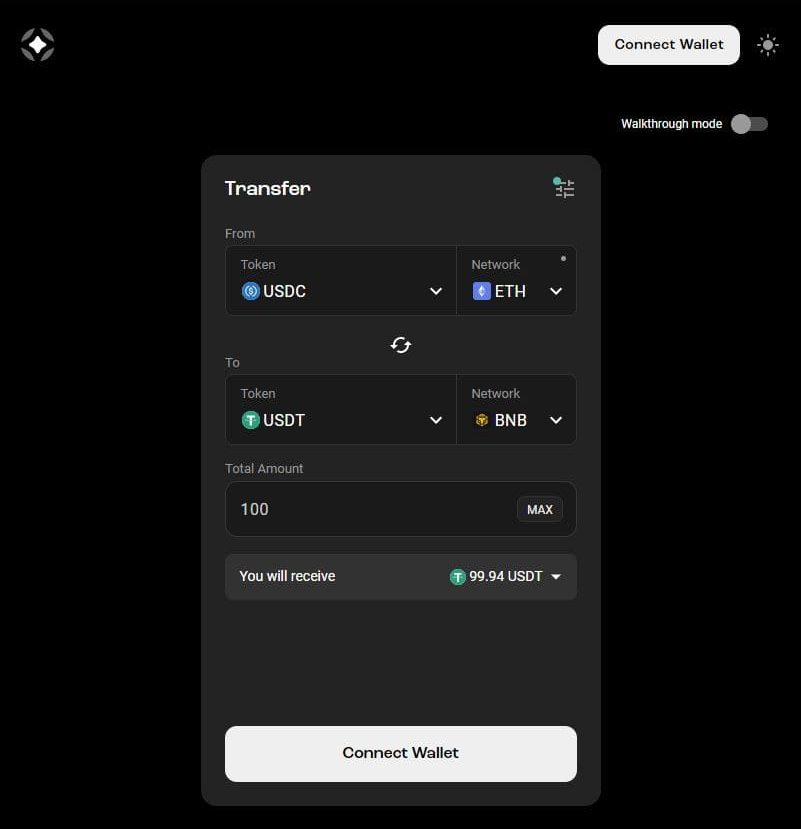 This happens seamlessly thanks to the powerful LayerZero that established the omnichain foundation.
Any projects can easily embed Stargate widget to create an in-app multichain swap.
The platform on the other hand allows users to stake stablecoins, or ETH and to farm LP-Token, then earn an Annual Percentage Yield (APY) in return.
Stargate Pool & Farm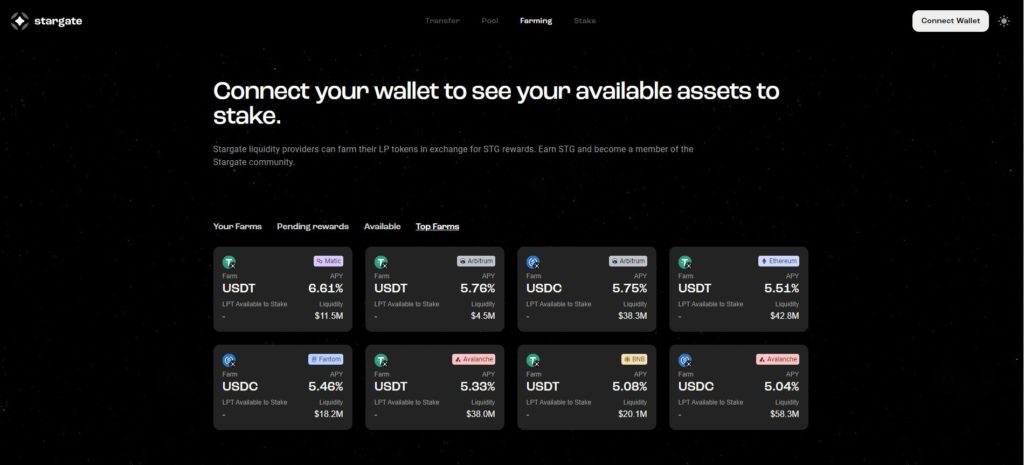 Stargate Pool includes USDT, USDC, BUSD and ETH.
BUSD pool is only available on BSC chain.
Meanwhile, USDT, USDC and ETH pools go live on various chains.
Visit Stargate Pool at https://stargate.finance/pool
Stargate Coin IDO Price
There was no IDO, but an auction closed on March 18, 2022 at the price of $0.25/token.
The auction will be 1-year full lockup, 6 month linear unlock thereafter.
https://twitter.com/StargateFinance/status/1504568950734082054
In fact, a large portion of the auction was acquired by the Alameda Research team from FTX exchange.
https://twitter.com/AlamedaTrabucco/status/1506306852396617732
$STG Crypto Tokenomics and Vesting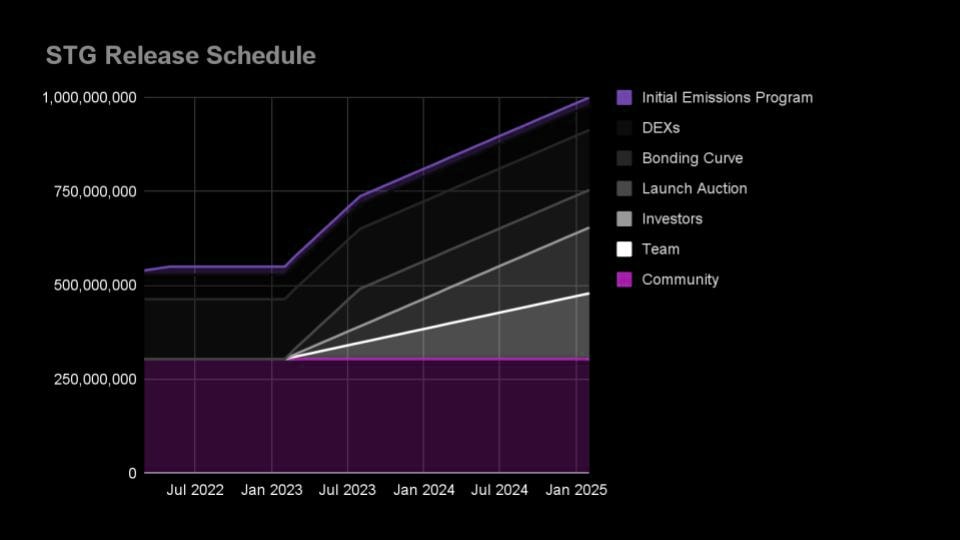 Total supply of $STG crypto is 1,000,000,000 token.
17.50% – Stargate core contributors (1-year full lock-up, 2-year linear unlock thereafter).

17.50% – Investors (1-year full lock-up, 2-year linear unlock thereafter).

65.00% – Stargate community allocation, dedicated to fulfilling the protocol's vision:

make cross-chain liquidity transfer a seamless, single transaction process.

Here's the breakdown of the community allocation:

15.00% – Stargate protocol launch.

10.00% to STG launch auction purchasers.

5.00% to an STG-USDC pool on Curve.fi.

15.95% – Bonding Curve, post-launch.

2.11% – Initial emissions program.

Up to 1.55% will be added to DEXs on BNB, Avalanche, Polygon, Arbitrum, Optimism & Fantom

The remaining 30.39% is dedicated to future community initiatives & the longterm success of Stargate
Stargate TVL and Marketcap Rate
At the time of this article, Stargate TVL has reached $464,446,117 USD, but its market cap is only $53,307,004, whereas its fully diluted marketcap is $393,445,801.
This makes Stargate TVL/marketcap equal to 0.12 (less than 1).
$STG Crypto Price – Where to buy $stg
$STG crypto price has been declined steadily since its launch due to the emission design.
Stargate initial emission program has been stop in June, 2022 that led to a relief rally.
Besides, Coinbase just listed $STG in August 2022.
https://twitter.com/CoinbaseExch/status/1555225303588405249
You can find exchanges that support STG trading as below.
>> Swap TREK Crypto <<
Connect to Stargate Finance
Create a multichain account, or import your Private Key
Go to Stargate Finance (https://stargate.finance/)
Choose 'Connect Wallet'
Choose 'Wallet Connect'
Scan the QR with KEYRING PRO, or choose KEYRING PRO on mobile browser
Tap 'Connect'
>> Polygon Wallets <<
>> What is Matic Faucet? Mumbai RPC <<
>> What is Rinkeby Etherscan <<
>> What is Avalanche Subnet <<
>> What is Binance Smart Chain Faucet <<
About KEYRING PRO
KEYRING PRO is a multichain wallet facilitating the advanced Wallet Connect infrastructure.
This allows users to sign in and approve transaction from anywhere, on any browsers, across different devices with one trusted device.
It ensures the highest security and administration as authorization will come from one place.
The app is compatible with NFC hardwares.
It simply means users can export their accounts to an NFC Keycard, then use the card to authorize transactions as a hardware wallet (cold wallet).
Buy Crypto is another cool feature that allows users to purchase crypto directly to their wallet with a credit card.
In term of trading, KEYRING SWAP is part of the KEYRING PRO ecosystem.
It operates as a DEX aggregator which sorts out the best exchange rate from different DEXs.
This maximizes user's profit in every trading session.
KEYRING SWAP is now supporting Ethereum, Polygon, Optimism, Arbitrum, Binance Smart Chain, and Avalanche.
>> What is Avalanche Subnet <<
>> 03 Things you should know about Bitcoin Rejoin <<