According to a project that plans to distribute free crypto to everyone on Earth, 130,000 people have their eyeballs scanned for free tokens.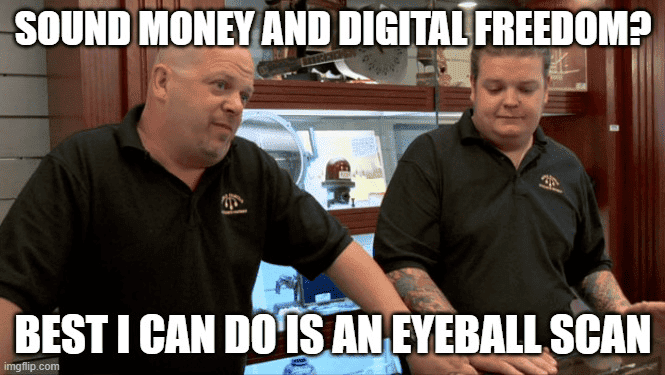 The project's plan sounds ambitious, and a lot of people have raised concerns over privacy.
It is also important to note that the cryptocurrency landscape is constantly evolving, and new projects can emerge over time.
Among those projects, Worldcoin appears to be a crypto project with the 9th longest-running blockchain in existence.
It says
"Crypto technology has reached 3% of the global population so far."
Let's dive into what Worldcoin is all about, from whether it is worth your eyes to where to buy Worldcoin.
Worldcoin Overview. Where to Buy Worldcoin?
The project may sound very cyberpunk. Would you let someone scan your eye in exchange for crypto?
It comes across like a plotline from Black Mirror or Gattaca, where you would pick your sci-fi characters with a superpower that can change the world.
Still, though, it is worth paying attention to what Worldcoin is up to.
Worldcoin is a crypto project that is aiming to pilot universal basic income (UBI) using a device called the ORB.
It is safe to say this peculiar rollout plan has caught everyone's eye.
About the Founders. Where to buy Worldcoin?
Worldcoin was founded by Sam Altman, and Alex Blania. The co-founders have already planned to release the project in the upcoming weeks.
Sam Altman's involvement in the project is one of the primary reasons why it has received media attention.
As far as we have known, Sam is famous for being the former president of Y Combinator, a start-up accelerator that is responsible for launching more than 3,000 companies including Twitch, Reddit, and Airbnb.
Y Combinator has also incubated in many crypto companies like Coinbase, and crypto projects like Filecoin, and OpenSea.
Sam even co-founded OpenAI with Elon Musk in 2015.
Extra Info. Where to buy Worldcoin?
The Worldcoin website specifies the non-profit Worldcoin Foundation – based in San Francisco, USA, and Berlin, Germany – which will soon be incorporated to oversee the project.
Worldcoin is hoping to stay in stealth mode at the start. But this cover was blown when the project raised $25 million dollars from some of the biggest names in crypto.
According to Forbes, Worldcoin's initial investors include Andreessen Horowitz, Coinbase Ventures, Sam Bankman-Fried (founder of FTX), as well as the founders of Solana and Polkadot.
But what really got people going is Worldcoin's promise of free cryptos in exchange for gazing into one of those 'orbs'.
This brings us to how Worldcoin works.
Exploring How Worldcoin Works. Where to buy Worldcoin?
As mentioned, Worldcoin's purpose is to be a prototype for universal basic income.
UBI ultimately requires two things:
A payment system
A biometric identity system
Payment System
Worldcoin needs to be able to scale to billions of users to do this.
Worldcoin is using optimistic rollups built on Ethereum, and it is not currently open-source. Though, the website notes that the code will be open-source soon.
Another crucial part of Worldcoin's payment system is the World App – the Worldcoin wallet app.
Introducing World App, the first wallet for @worldcoin.

You can use it to prove your personhood online with World ID, claim your Worldcoin tokens, and send digital money globally for free. pic.twitter.com/dc27Ps0Nsu

— Alex Blania (@alexblania) May 8, 2023
The Worldcoin wallet app is currently available for download by choosing an operating system between Windows, Linux, and a Paper Wallet with a QR code.
According to a report from the founders, "As of May 9th, already 500k people use it monthly to send over 60k transactions per day".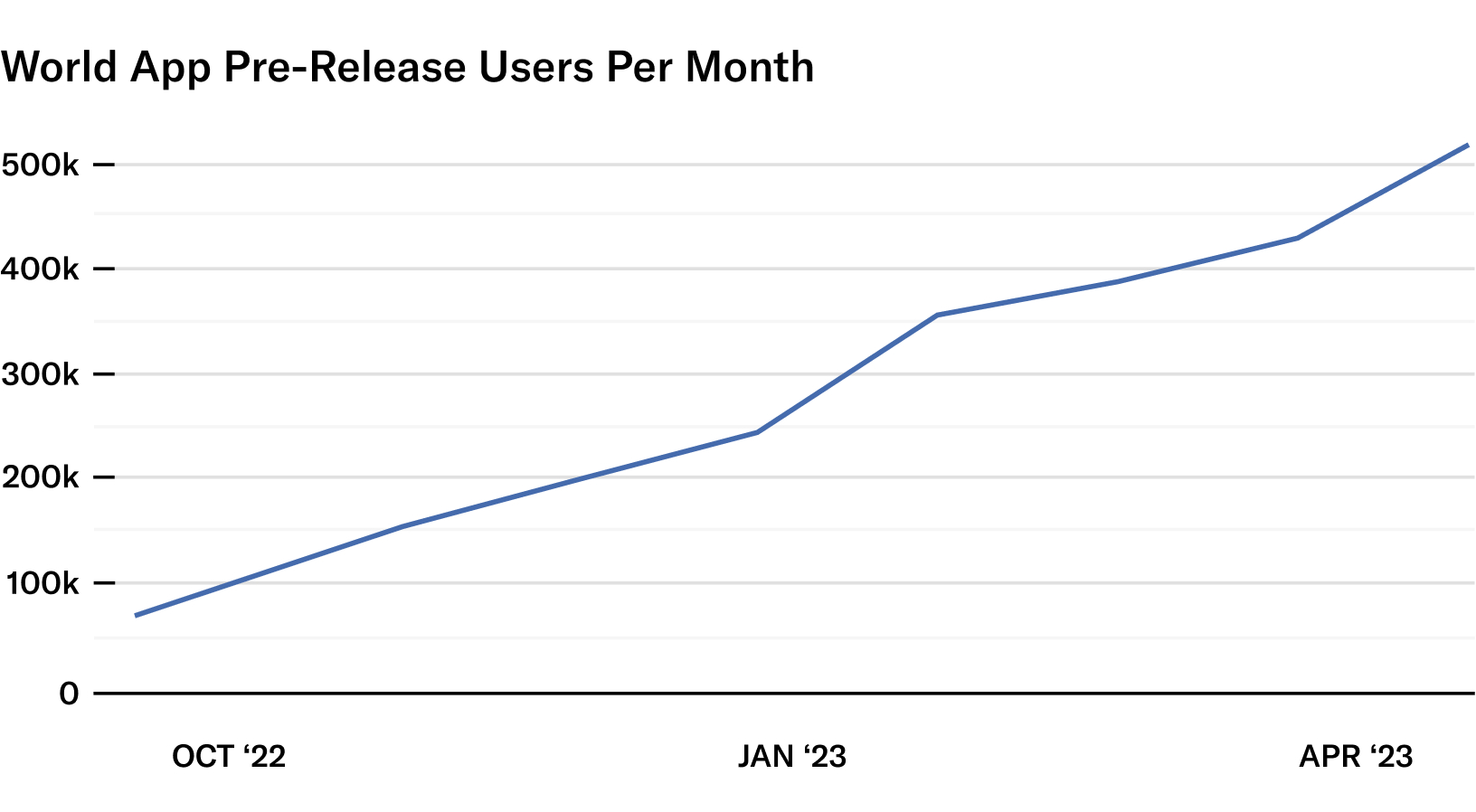 The team has made so much effort to talk to users around the world and iterated to make it simple to use for everyone.
The Wallet app was made to be a non-custodial wallet, and it allows users to use their tokens throughout the Ethereum ecosystem.
In addition, over time, World App will evolve into a toolkit to empower users in the Age of AI, enabling the usage of proof of personhood, the global distribution of cryptocurrency, and ultimately the path to AI-funded UBI.
World App mobile version is also available on iOS, and Google Play.
Worldcoin Switches to Optimism
It was announced that the World App wallet and World ID identity protocol – which have been running on Polygon – were switching to Optimism. 
This is aiming to solve what may be a critical issue in the Age of AI: how to verify identity. Or even just verify if you're a human.
Overall, the fact that Worldcoin has chosen to be on Optimism – a solid Ethereum Layer-2 solution – is significant.
The Identity System
Worldcoin's identity system uses the iris – the colored part of the eyes – to ensure that the same person can't claim UBI twice.
There are 03 reasons why they choose the iris as proof of personhood:
No two irises are alike, not even for identical twins.
Irises are extremely hard to modify
Scanning someone's iris is much easier to do than any alternative such as fingerprinting, facial recognition, or DNA sequencing.
Worldcoin will scan people's iris using a big camera called "the Orb". These iris scanners are then connected to a user's wallet address while preserving privacy.
How does the Orb work?
Firstly, you show the orb a QR code
Second, you gaze into the Orb
Then, the orb generates a unique hash for both your QR code and your iris
Next, the orb sends this hash to a sequencer node. The sequencer node then checks to see if this hash has been registered before. In case it is not, it will be connected to a user's wallet address.
Zero-knowledge proof is used as part of this process. Therefore, there is no way Worldcoin can know who each wallet address belongs to.
Moreover, no personal information is collected besides the user's iris.
Now, if you're wondering anyone would sign up for this. The answer would obviously be all about money.
Anyone who signs up for Worldcoin will be allocated a fair share of Worldcoin tokens once the mainnet goes live.
To prevent a person can claim more than that fair share, each Orb is equipped with a machine-learning algorithm that can tell when someone is using a colored contact or trying to scan the eye of their dog in place of their own.
There are currently 30 Orbs operating in 12 countries, and over 130,000 people have gazed into them ever since the testing stage began.
The hype over the eye-scanning project of OpenAI CEO brings a question "Where to buy Worldcoin?"
How to Find New Meme Coins Early
Tokenomics. Where to Buy Worldcoin?
Although tokenomics are still hammered out, a few tokenomics factors can be found on the official website.
Worldcoin's cryptocurrency is $WLD.
As of the time this article is written, $WLD price is up 24.32% in the 24h trading volume. The total supply and circulating supply are not available yet.
Expectedly, Worldcoin will have a maximum supply of 10,000,000,000 $WLD, allocating into these parts:
2,000,000,000 $WLD will be funding the production and initial protocol development, the Worldcoin team, and early adopters
8,000,000,000 $WLD will be used for the orb operation and Worldcoin users.
If you would like to know where to buy Worldcoin at the current rate, the top exchanges are XT.COM and FreiExchange.
PulseChain: A Simple Explanation
Where and How to Buy Worldcoin
Where to buy Worldcoin
Go to the exchange that supports buying, selling, and trading $WLD
Sign up if you do not have an account
See if the exchange supports fiat currency or cryptocurrency or both
Deposit to buy
In other words, you can buy BTC or ETH on the exchanges, then transfer your newly purchased BTC or ETH from your wallet to the exchange.
How to create an account using KEYRING PRO
However, currently, the only way to obtain the $WLD token balance is by migrating to the World App.
After launch, you'll be able to receive $WLD in the World App, and store, sell, and transfer as you please. You will not be able to withdraw your balance otherwise.
How to transfer the balance to the World App
If you sign up for a web account, you can now migrate it to the World App.
This is a necessary step in order to transfer your World ID from the web to the app and receive your allotted $WLD tokens.
How to import an account to buy Worldcoin ($WLD)
First, download the World App
On the signup page, select "Existing Account"
Then continue with the Signed up in Early 2021 option
Import your account by entering your login credentials. This includes the mobile number, email, and password you used for your web account.
On the next page, select Import My Account.
Your web account will then migrate over to the World App.
If you have already downloaded the app and set up your account:
 Go to Settings by selecting the Gear icon in the corner
Select Account
Select Import legacy web account
Enter your web account login credentials to sign in
Select Import My Account
Once migration is done, you'll be brought back to the home page of the World App
Bottom Line
Regardless of whether or not the world signs up to be scanned by the Orb, it is worth paying attention to what Worldcoin is up to and where to buy Worldcoin since it is loosely linked with AI development.
In blockchain we trust. KEYRING PRO supports thousands of Web3 Dapps with powerful WalletConnect 2.0 integration.
Backed by KEYRING_PRO, you can seamlessly transfer tokens and find out where to buy Worldcoin.